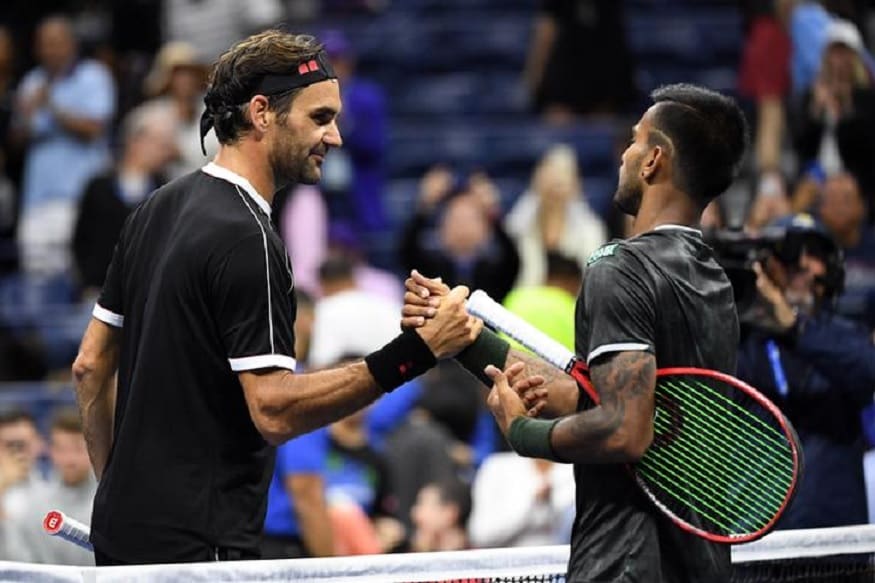 Up until a few weeks ago, only a handful of Indian tennis buffs and those involved in running the game in India, had any inkling who Sumit Nagal was. Speaking for myself, I had not heard of him and I follow the game closely. Then the young man qualifies for the main draw at the ongoing US Open and he is drawn to meet Roger Federer in the first round. So even before they stepped on court, the Indian media was already abuzz – the little known Nagal going head to head with the God of tennis. Had he been facing someone like Bautista Agut or Alex de Minaur, no one would have taken a blind bit of notice. Then the young hopeful takes the first set off the GOAT.
Madness time! Tennis followers were receiving early morning WhatsApp messages that a great upset was in the offing, so wake up and watch the magic unfold. Remember it was crack of dawn in India and well into late evening in the Big Apple. By the time I switched on the television, Federer had taken the next two sets and swept through the fourth set. The match swiftly sewn up. It wasn't quite a case of 'one small step for Nagal, one giant leap for Indian tennis.' There was a momentary flutter of anticipation and excitement, but Federer soon extinguished the embers with his customary, ruthlessly elegant efficiency.
Flashback time. In 1969, the handsome Premjit Lall played the then undisputed numero uno of world tennis, the peerless Australian Rod Laver in the second round at Wimbledon. Laver, amazingly twice the holder of the calendar Grand Slam. Before anyone knew what was happening, Premjit had pouched the first two sets! Was the mother of all upsets about to happen? Flattered to deceive alas, our Premjit. Laver came roaring back and took the third set, and the last two sets without the loss of a game. After the match, this is what Laver had to say, 'I was very fortunate to come through that match. I pretty much underestimated him playing so well on the grass courts. He had a good serve and I was struggling. My confidence levels weren't there.' Premjit Lall was involved in many a stirring battle, particularly in Davis Cup encounters alongside the legendary Ramanathan Krishnan and Jaidip Mukerjea, but most tennis buffs will remember him by that near miraculous upset that didn't happen at Wimbledon against Laver.
In other Grand Slams, Vijay Amritraj took out Rod Laver, now in the evening of his career, in the 1973 US Open 3rd round but could not get past Laver's ageing compatriot Ken Rosewall in the quarter finals in consecutive years, 1973 and '74. Ramesh Krishnan was a set up against John McEnroe, again at the US Open quarter finals in 1981, but the left handed, temperamental genius had his way. In his autobiography, 'A Touch of Tennis', co-authored with his father, Ramesh self-effacingly recalls McEnroe's famous post-match comment, 'The guy serves at 10 miles an hour and I still can't return it.' And we all know how Ramesh's father, Ramanathan Krishnan twice entered the semi-finals at Wimbledon in 1960 and 1961, going down on both occasions to the ultimate winners, Aussies Neale Fraser and Rod Laver respectively. Both Vijay Amritraj and Ramesh Krishnan are multiple Grand Slam quarter finalists and they have earned the undying admiration of Indian tennis lovers. As indeed, have Leander Paes, Mahesh Bhupathi and Sania Mirza for their many doubles conquests. Above all, India's magnificent Davis Cup triumphs against Brazil in 1966 in Calcutta, and France in 1993 in Frejus are indelibly emblazoned in our sporting history, both ties going right down to the wire.
The purpose of elaborating on these sporting minutiae was to draw attention to how starved we are when it comes to sporting attainments, that a player taking one set off Federer had the Indian media going berserk for the next 24 hours. And we celebrated P.T. Usha's creditable 4th placing in the 1984 Los Angeles Olympics 400 metre hurdles like she had struck gold. P.V. Sindhu saved India's and her own blushes by finally winning the World Badminton Championships, and the media clamour that followed was completely understandable. To put things in perspective, we have had our moments under the sun in fits and starts. Padukone, Nehwal and Sindhu in badminton, the Krishnans, Amritrajs, Paes, Bhupathi and Mirza in tennis, Mary Kom in boxing and our forgotten hockey heroes from several decades ago and of course, the Indian cricket teams in recent decades who have put us well and truly on the map.
Let me get back to the Nagal / Federer story and what one learns from that result. That as a nation, we the people and our hyperventilating media need to display a sense of proportion and be more circumspect in the way in which we talk up our sportspersons at the least pretext. In this case, no blame attaches to Nagal who did creditably well to qualify for the main draw, was then up against the Fedex. He can take some consolation from the fact that Roger didn't exactly wipe the floor with him and had to work hard for his win. We need to raise the bar when we go gaga over small moments of thrills and spills though the result is a foregone conclusion. Had Nagal actually beaten Federer, we would have had something to exult and go over the moon about, provided he was not beaten in the next round by some relative unknown, as happens often to unseeded players who play momentary party poopers. Beware of the false dawn.
If I have concentrated mainly on tennis in this piece, the main provocation was that Nagal / Federer encounter. Let me turn briefly to India's favourite sport and pastime, cricket. When India stunned the world with those twin Test series victories, back to back against the West Indies and England in 1971, giving birth to India's first cricketing superstar Sunil Manohar Gavaskar, our legion of star-struck fans could not contain themselves. That is the level of achievement that should properly be celebrated, albeit slightly over the top. India announced themselves as a force and several decades later, we are among the top cricketing nations in the world across all formats, having won everything there is to win and producing one icon after another in the process.
So my earnest plea to all our sports followers and particularly the media is to rein in their unbridled rush of adrenalin when a young tennis player manages to capture a set off a legend. I fervently wish young Nagal will achieve great things in the future. Till then, let the young man just play the game and let us all hold our horses. For myself, I shan't be holding my breath.
For the nonce, raise another glass to P.V. Sindhu.