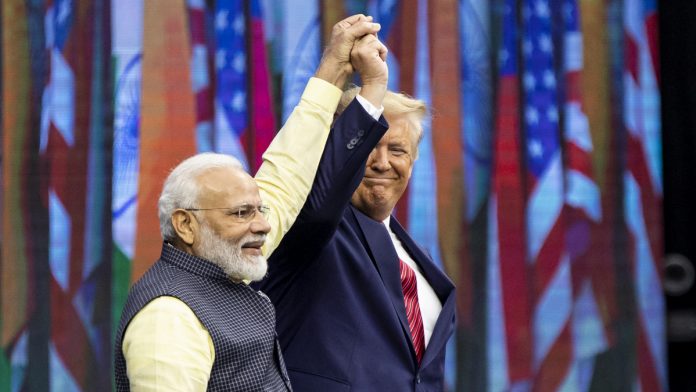 The redoubtable President of the United States of America Donald Trump, went head to head, in the nicest possible way, with the indefatigable Prime Minister of India, Narendra Modi. At Houston, Texas. There were hugs and kisses, and a few near misses. But at the heart of the mammoth, fanatical and hugely impressive gathering of the Indian diaspora, Modi and Trump made nice with each other. Amul butter wouldn't have melted in their mouths. The love feast continued in New York, on the side lines of the UN General Assembly.
 In the midst of all the bonhomie and backslapping (let's hope there's no backstabbing), what stood out most, making for great copy and banner headlines, was the US President's stunning double whammy of calling our PM 'the Father of India' and likening him to 'America's version' of pop icon and rock star, Elvis 'The King' Presley. What he probably meant was India's version of Elvis Presley, but we will let that minor solecism pass. Trump's contemporary description of Modi as 'the Father of India' came perilously close to the time honoured 'Father of the Nation' label, exclusively reserved for Mahatma Gandhi. Whether Trump was aware of this and cleverly substituted 'Nation' with 'India' or if it was just a fortuitous happenstance, we shall never know, but for now Big Daddy has a new avatar, and his opponents are not amused.
It then occurred to me that, had Donald Trump carefully planned to introduce the Elvis motif deliberately into the conversation, which was not the case (it was clearly spontaneous), he might have summoned his think tank in advance to name check a set of Elvis the Pelvis' major hits and cleverly juxtapose them with both Trump's and Modi's respective political scenarios. It has now fallen to yours truly to take up the slack and do something about it. In my callow youth, I was a big fan of Elvis Presley's oeuvre, and I thought it would be a bit of a blast to see what I can do with some of his fabulous numbers and relate them to our topic of discussion. So here goes:-
Jailhouse Rock – 'The warden threw a party in the county jail / The prison band was there and they began to wail.' Those are the opening lines of that blockbuster hit, and what better way for India's version of Elvis, our beloved Prime Minister to visit Tihar Jail, than with a song on his lips and a word of good cheer to his dear friends, P. Chidambaram, D.K. Shivakumar and several other detainees with a huge price tag on their heads. This being the festive Navaratri and Diwali season, he could distribute sweets, light a few lamps, all just to show there's no ill feeling. Also sending out a message to Vijay Mallya, Nirav Modi and Mehul Choksi that their cells are being kept warm for them in Tihar.
It's Now or Never ('O Sole Mio) – We will never know whether the PM and his Home Minister had this wonderful Elvis song in mind when they decided to abrogate Article 370, but they certainly did not allow the grass to grow under their feet when they took the bold call on the vexatious Jammu and Kashmir issue. They discussed, decided and declared. And Parliament (both of them – Rajya and Lok), roared in assent. Macbeth would have approved, 'If it were done when 'tis done, then 'twere well it were done quickly.'
All Shook Up – Still on Article 370, many people across our borders and indeed, even in this country, were 'all shook up.' India's avatar of Elvis would have been fully aware of this, but as he himself might have put it had he been aware of the phrase, in this case paraphrase, 'you cannot make an omelette without shaking up a few eggs.' Being a strict vegetarian he might have employed a more acceptable culinary reference, but you get the picture.
A Little Less Conversation – Many critics of the Trump / Modi tête-à-tête in the United States felt there was too much chatter on both sides, and fretted if the leaders would be able to put their money where their mouths were. Cynics will always be cynics, but with Elvis as their abiding inspiration, I feel confident that in the months to come, there will be more action and less conversation. Which may or may not suit Im the Dim from across our western borders, but we can only wait and watch. What was that unforgettable line from Eli Wallach in 'The Good, the Bad and the Ugly? 'If you want to shoot, shoot. Don't talk.'
Return to Sender – This well-known postal terminology, which Elvis (Presley, that is) put to good use in his frustrated love song, has acquired a new meaning and gravitas in the present world geo-political environment. Essentially, the song title captures the policy of the nuclear deterrent to a nicety. Trump and his soul mate Modi, are pretty much saying the same thing to their adversaries. 'We have the bomb, but have no wish to use it. We want peace. Should you, however, in a moment of sheer madness, decide to press the button, rest assured it will be "returned to sender". With interest.' That's telling them.
Suspicion – Many decades ago, the singing sensation from Memphis, Tennessee warned the world that constant mutual suspicion can only torment your heart. Not too many world politicians took heed of the words of this sage with the golden voice. And most of them came to grief. Today, India's answer to Elvis (at least in Modi's opinion), is eloquently fighting not just for world peace, but also for climate change and a clean environment. 'Swacch Bharat' is his clarion call, and he is being heard loud and clear. If only more people were less suspicious.
Suspicious Minds – Another brilliant hit from Elvis, with the same sentiments as 'Suspicion.' I am only featuring it to show how dedicated the great man was to remove this cancerous emotion that he had two hits with the same theme. No wonder world leaders like Trump are quoting him at every turn.
The Wonder of You – When Trump and Modi were introducing each other to the 50,000+ crowds in Houston, you could have been forgiven for blanching just a wee bit at the overblown praise, bordering on hero worship, gushing back and forth from both leaders. Many watching this on television here in India may have been squirming in their seats. But then, this is politics baby. In their defence, it must be said that the bosses appeared to be truly in awe of each other – a Mutual Admiration Society. The crowds loved it, and Elvis hit the nail on the head again with 'The Wonder of You.'
(You're the) Devil in Disguise – There are many in India and the United States who would be only too ready to concur with this particular Elvis song title, with reference to the two towering heads of state we are discussing. Good thing is if you are elected to be the captain of the ship, you have to learn to take storm tossed seas and hurricanes with equanimity, a quality both Modi and Trump possess in spades.
Always on my Mind – As Modi and Trump took leave of each other from Houston, as they waved goodbye, they seemed to be telling each other that they will always be on each other's minds. I am not sure if Trump, applying his handkerchief to his left eye was to staunch impending tears, or to take care of an errant gnat, but the scene was high on emotion. Like Elvis' song.
I would like to conclude this essay by thanking Donald Trump for bringing Elvis Presley into the equation. From an American President showering praise on an Indian Prime Minister, there could not have been a more telling compliment. Bob Dylan wouldn't have cut it. Nor would Babe Ruth. But Elvis? You betcha!