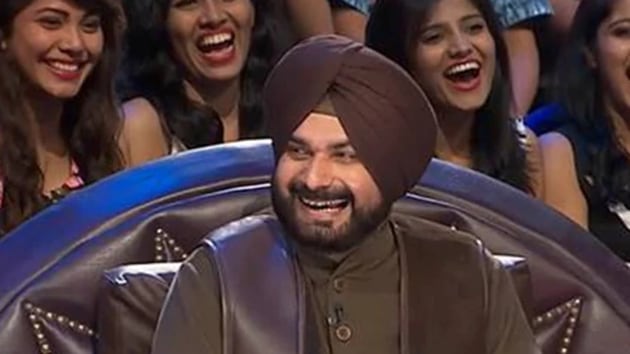 A prefatory note: I wrote this piece exactly three years ago on the shenanigans of the incorrigible cricketer-turned-politician, Navjot Singh Sidhu. For reasons unfathomable, I failed to include it in any of the three collections I published in book form. This column that slipped the net, as it were, was more in the nature of an inadvertent error of omission than a case of it being considered, in any way, shape or form, unsuitable for publishing. With the fiery Sardar so much in the news these days, what with his constant sword-crossing with the erstwhile Chief Minister of Punjab, Captain Amarinder Singh and his maladroit attempts to play the role of king maker, his frequent dashes to New Delhi to confab with the Congress party's first family, all these have been making headlines and have been faithfully recorded in our avaricious media channels. The redoubtable Captain Amarinder Singh frequently refers to Sidhu as a 'joker.' Irrespective of which way he meant it, the cap fits to a nicety, though most of us are laughing out of the other side of our mouths. It was time for redressal, and I present it here, dug out of the woodwork and dusted, pretty much unexpurgated, and suitably embellished. On a fresh reading, what amazed me was that hardly anything had changed during this period and the piece therefore retains its fresh topicality in every detail, despite the passage of time. Read on.
Navjot Singh Sidhu strikes again. The garrulous Sardar has, once more, put his foot in it. Dropping another brick, adding to the many he has already dropped with metronomic regularity. At this rate he could easily build a decent-sized brick house. His latest faux pas has been to claim that he greatly prefers Pakistan to south India. And why this strange leaning towards our hostile neighbour in preference to his southern brethren? Can we then deduce that he prefers the rest of India to Pakistan, or is that debatable as well? Apparently, his inability to converse in Tamil or, come to that, Telugu, Kannada and Malayalam, is a major handicap, whereas in Pakistan he can let loose a volley of the choicest invective in Punjabi, and no questions asked. Then there's the food. Clearly India's former opening batsman has had it 'up to here' with idli, vada, dosa, thayir saadam (curd rice), sambar and other such southern vegetarian delights. He would prefer tucking ravenously into aloo parantha with a generous helping of chicken tikka masala on the side. One sees his point, up to a point, but still…
It was barely a few weeks ago that Sidhu went on a hugging spree in Pakistan at Imran Khan's Prime Ministerial investiture, drawing the ire of most right- thinking Indians, and deeply embarrassing his Congress party cohorts. His brave, though lame attempts to explain away these gestures as being all in a good cause to further Indo – Pak relations, fell on deaf ears. Hugging former cricket mate and now Prime Minister Imran Khan is one thing but embracing Pakistan's top military brass is brazenly pushing the envelope. India was not amused. Now we know the real reason why he keeps haring off to Pakistan at the drop of a turban. He loves their cuisine!
Now here's a man who, in his early cricketing days was dubbed by many commentators as 'the stroke-less wonder', for his limpet-like ability to stay scoreless at the crease for interminably long periods. In fact his extreme caution while batting was admired by many who felt that that was the way Test cricket should be played. Later on, Sherry Paaji, to employ his affectionate moniker, became more adventurous, regularly dancing down the track and depositing the ball into the stands. The great Shane Warne was the victim of some of Sidhu's fancy footwork. As an aside, one cannot forget the stormy petrel Sidhu's intemperate walk-out from India's touring party in England in 1996, owing to an unseemly spat he had with his skipper, Mohammed Azharuddin. Evidently, Azhar kept abusing Sidhu, and who is to say he did not have just cause? Those never-ending wisecracks and jokes alone would have got the skipper's goat. It was during this twilight phase of his career that Sidhu found his true calling, that of a cricket commentator and talk show host. In present day parlance, Sidhu 2.0.
The term 'Sidhuism' was thus born. From the commentary box, Sidhu would bombard us with a barrage of cringe-worthy aphorisms and silly shibboleths. This made him the darling of some sections of the viewing public, but his incessant banter and thigh-slapping recourse to English, Hindi and Punjabi jocularity began to pall. Unsurprisingly, languages from the south of the Vindhyas were conspicuous by their absence in Sidhu's lexicon! Those of us brought up on a diet of John Arlott, Brian Johnston, Tony Cozier and Pearson Surita, found Navjot Sidhu an unbearable pain in the cervical and gluteal areas of the anatomy. However, to redress the balance and be even-handed, there are many who loved his corny and overwrought witticisms. Check out some of these classic Sidhuisms for yourself, dear reader, and make up your own minds.
The third umpire should be changed as often as nappies and for the same reason / Wickets are like wives, you never know which way they will turn / There is a light at the end of the tunnel for India, but it's that of an oncoming train which will run them over / The way Indian wickets are falling reminds me of the cycle stand at Rajendra Talkies in Patiala….one falls and everything else falls / The ball slipped from his hands like butter from a hot parantha.
As Sidhu has now entered politics (Sidhu 3.0) with a bang, here are a few of his non-cricketing gems – Politics is not a bad profession, boss. If you succeed there are rewards. If you fail you can always write the book / Experience is like a comb that life gives you when you are bald / A hair on the head is worth two in the brush. Not sure what he meant by the last two epithets, unless it was an oblique reference to how politics can lead to hair fall in double quick time!
Whichever way you try and explain or deconstruct this maverick cricketer-turned-politician, Navjot Sidhu continues to defy definitions. At times forced slapstick, oftentimes embarrassingly unfunny, Sidhu's main problem appears to be that his motormouth moves a tad quicker than the messages his brain signals. This leaves him constantly in the horns of a dilemma – of thoughtlessly shooting his mouth off, only to repent at leisure. His peerless batting partner, Sunil Gavaskar, had Sidhu sought his advice, would have told him to watch the ball hawk-eyed, and then decide whether to play or leave the ball alone.
It paid Gavaskar rich dividends. Sidhu should apply the same principle when he decides to talk to the media. To cite the recent incident, Sidhu should have paused and said to himself, 'Idli, vada, sambar, they make me sick to the stomach, but I must respect my fellow cricketers from the South like Srikkanth, Sivaramakrishnan, Venkataraghavan, Laxman et al, who consume them by the banana leaf-fuls every day. I should not hurt their feelings. When I go back home to Patiala or Ludhiana, I shall gorge on chicken tandoori till the cows come home, if you'll pardon the mixed non-vegetarian culinary metaphor.'
There you are, Sherry Paaji, a little thoughtful reflection and you would not have been hitting the headlines for all the wrong reasons. Now go home and write 100 times, 'I will not speak ill of idli and dosa. I will also not mention Pakistan as long as I live, and no Pakistani shall ever feel the warmth of my dubious embrace ever again.' In fairness, Mr. Sidhu, you will surely appreciate that your ill-advised, lovey-dovey gestures with the top brass of Pakistan will surely put the kybosh on any vaulting ambition you might nurse to become the Chief Minister of Punjab. As for your anti-masala dosa stance, you take such a position at your own peril if you are entertaining hopes in the future of strategic tie-ups with Stalin and his party apparatchiks, as indeed the rest of south India. Apropos nothing, I end with one of Navjot Singh Sidhu's more opaque quotes, An idle mind is where mischief hatches eggs. Make of that what you will!
Postscript: Dear reader, that was then and this is now. Three years down the road, Navjot Singh Sidhu continues to rivet our attention with every move he makes and every hackle he raises. The more things change the more they remain the same. Or as the French put it so lyrically, 'plus ça change, plus c'est la même chose.'