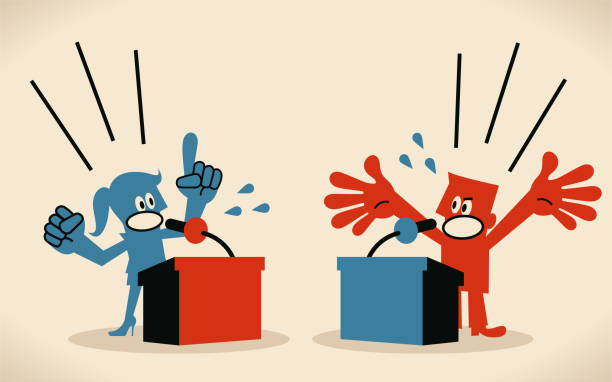 The art of debating was actively encouraged when most of us were still in our early teens. In its barest essentials, the way we defined a debate as practised in schools and college campuses was roughly on the following lines. The House proposed a motion, as in 'This House believes that bullying in schools should be punishable by rustication.' Three speakers would be selected to speak 'For' the motion and three 'Against.' Each speaker would be given three or five minutes to present his or her argument for or against the motion and a final summing up would be given by a pre-selected speaker from each side. The debate was presided over by the Speaker of the House to ensure that timing was strictly adhered to and that matters did not spiral out of hand. The Speaker was provided with an old-fashioned bell which was pressed frequently to indicate to the debater that time has been called. Thirty discretionary seconds grace time was allowed after which the Speaker's irate ringing made it clear for whom the bell tolls. Finally, after all is said and done, the motion is put to vote by a show of hands by the audience and we will then know if those nasty bullies ought to be dismissed or retained with suitable punishment meted out. All very parliamentary, civilized and above board. Sadly, our Parliament today is anything but.
It strikes me as ironic that a handful of those very proper boys and girls, now grown to (im)mature adulthood, show themselves on our television screens, during what is broadly termed the news hour, prime time debate, to be little more than crass boors. Or at best, bores. More often than not, the anchor for the programme is barely able to maintain even a semblance of control over his delirious guests, who are drawn from opposing political spectrums. Every subject is reduced to political binaries. Speakers, for the most part, have little to say from their own point of view, resorting to what is now fashionably termed 'whataboutery,' at every turn. I grant you that there are notable exceptions, but they only serve to prove the rule.
The madness cuts across political affiliations and many of our channels seem to go out of their way to invite speakers blessed with bloated lung power and shrunken brain power. The ability to talk ad infinitum, ad nauseam over each other without compunction would seem to be a sine qua non. 'Off the wall' does not even begin to describe the charade. Push comes to shove, the anchor will turn some recalcitrant, bull-headed speaker's volume to zero, and we are witness to the comic spectacle of the poor, unaware wretch mouthing sweet nothings! It's a farce that some of us watch some of the time, in the forlorn hope that we might learn something of value with regard to our nation's momentous happenings. Gluttons for punishment, we are.
Let us take a topic completely at random, being debated at one of our late evening debates, and see how the proceedings unfold. I choose a hypothetical subject for this piece, but one that surely would have featured before. The subject, introduced by the anchor, discusses India's policy towards Pakistani aggression across our northern borders, with particular emphasis on what our strategy should be.
Anchor Guy (AG) – 'I am introducing a very serious topic this evening, that of Pakistan's untrammeled incursions across our borders. As there are more than twenty guests on my show, I cannot waste time introducing all of them. You already know most of them. However, those three miserable, uniformed persons at the right end of your screens, with a bilious green backdrop, are my guests from Pakistan. They will not be allowed to open their mouths; they are merely present to be roundly abused by me and anyone else, other than Navjot Singh Sidhu followers. If they do try to say anything, I shall switch their microphones off. I am paying them well, so they can lump it. Right, is it time for our army to go on the offensive against the Pakis? That is the topic for the evening. Let's debate.'
BJP Rep – 'Thank you AG. My friend from the Congress….'
Congress Rep – 'I am not your friend. Let me make that very clear. We would rather be friends of Mussolini……'
BJP Rep – 'But of course, you will admire anyone from Italy, even a dictator like Mussolini. Runs in the family. How about Hitler? Further….'
Congress Rep – 'Führer? Oh, further. Right. That really cracks me up. Who is talking about dictators? Let me tell you something about authoritarian Indian dictators who, after repealing the farm laws, are now lame duck dictators. You are nothing but…..'
AG – 'One minute, one minute, one minute, one minute. I will not allow this kind of rubbish on my programme. Please stick to the subject. We are talking about Pakistani aggression on our soil. Where do Mussolini and Hitler come in?'
Pak Rep – 'Mr. AG, we strongly object to this subject. It is an insult to our country. We shall take this matter up strongly with our PM, Imran Khan Saheb. Or with Navjot Sidhu Paaji.'
AG – 'Listen my friend from Rawalpindi or Karachi or whichever hell hole you crawled out from, who are you to object? This is my programme. And you think this is an insult? Thanks for the compliment. I am just getting started. If you carry on like this, you won't get paid. As our superstar Rajini Sir would say, "Mind it."'
AAP Rep – 'Listen AG, this is not fair. I did not interrupt and I have not even uttered a word. Our leader wants me to be in my Karol Bagh constituency in 30 minutes to distribute free rice to all the citizens there.'
AG – 'Don't be silly. You have now uttered more words than I am inclined to allow you. I will not be upstaged. If you wish to distribute free rice, electricity, water or bus and train passes, be my guest. While you're at it, ask your driver to leave one sackful of Basmati rice in my office. I have guests coming home this Sunday, beer and biryani lunch. Now enough of all this nonsense. Let's hear from the TMC lady.'
TMC Rep – 'Thank you AG, mishti chele. That's mean sweet boy in Bengali. Amar Sonar Bangla. This Pakistan business, I don't know much. But Bangladesh, we welcome so many, many, many peoples. They are very good cooks. Some are also crooks, but theek aachhe. We give them walk-in visas. But Imran he is sooo handsome, no? Daarun personality. In fact, Didi wants to invite….'
AG – 'That'll do. I've heard enough from you. Calling me names like mishti chele won't take you far. I am beyond flattery. And if there is one thing I am most definitely not, it is sweet. You want Imran? Ask Didi to send Navjot Sidhu to go and invite him. A few hugs won't go amiss either.'
TMC Rep – 'I laav it when you get angry AG. You must come home for cha bishkoot with nolen gurer sandesh when you visit Kolkata. I have nice flat in Ballygunge Circular Road…'
AG – 'Will someone please cut this ridiculous lady off screen and sound? This is turning into a farce. I want to hear from our defence expert. Go ahead, General.'
Defence Expert – 'I want war. Enough of this pussy footing and namby-pamby approach. Why are we tip-toeing on egg shells? If I was not 85 years old, I would have been out there in the front lines, happy to take a bullet for my country. It's a pity those guys you have invited from Pakistan are not here live, sitting in front of me. I even oiled my rifle this morning. And that TMC lady with her half-baked Bonglish was really getting on my nerves! My finger was itching on the trigger.'
AG – 'You're telling me! I know exactly how you feel. Easy General, easy. You will collapse with apoplexy. There's no doctor in the house. I am running out of time. Those 10 others who did not get a chance to speak, don't worry. You'll get your appearance fee. Now stop yelling and screaming all at once. I'll see what I can do next time round. And remember viewers, if there's anything you or the nation want to know, you know where to come. Good night.'
Programme ends. Off screen, AG's voice – 'I say, where's that AAP chap. Left already? He's forgotten my Basmati rice. Bloody hell! Cheapskate. I'll never call him again.'