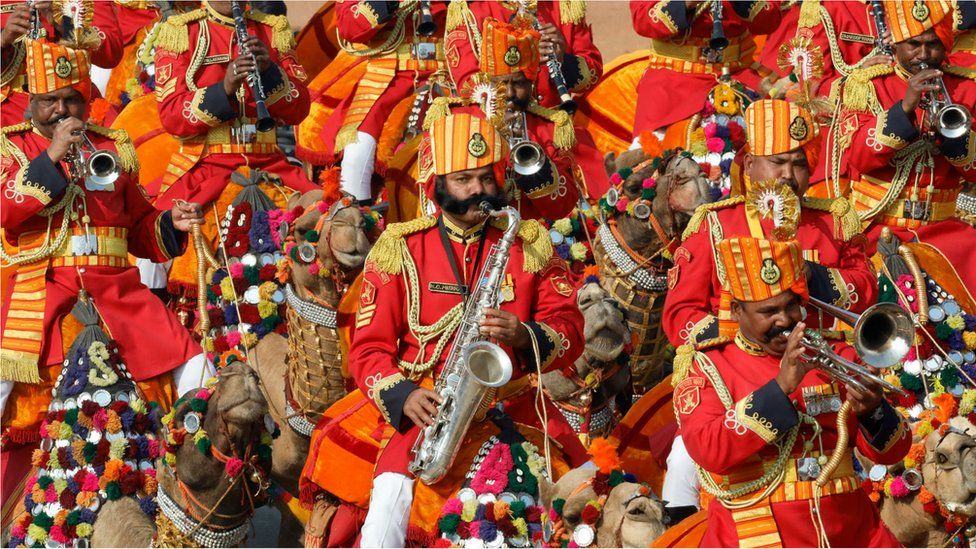 The beautiful lyrics for the hymn, Abide with Me, were written by Scottish Anglican Henry Francis Lyte in 1847 as he was dying from tuberculosis, the haunting melody for which was set by William Henry Monk. During my boarding school days in Bangalore, we often sang this paean during chapel service, along with other equally memorable hymns. O God Our Help in Ages Past and Breathe on Me Breath of God spring to mind. However, you would not be far wrong in saying that Abide with Me was, by some distance, at the top of the hymn charts. If you woke me up in the dead of night and demanded that I sing the first verse of this hymn, I could do it without batting a droopy eyelid.  As most of you will surely be aware, this particular hymn has been hitting the headlines in India recently for all the wrong reasons. As India's 73rd Republic Day approached, it came to light that Abide with Me, traditionally played every year by one of the regimental bands at the Beating Retreat, alongside several Indian tunes that were redolent of valour, freedom and patriotism, will be conspicuous by its absence. Needless to say, this set the cat among the pigeons. Everyone and his uncle had something to say. I decided to clamber on to the bandwagon.
The powers-that-be who decide on such matters have clearly been mulling over this issue. A couple of years ago they took the decision to do away with Abide with Me at the Retreat, only to reinstate it, for reasons not clearly articulated. Perhaps somebody up there developed cold feet. This year, that same somebody decided enough is enough and the band stowed away the music sheet for this beautiful hymn in deep cold storage, with no prospect of thawing. Its place was taken by the uplifting tribute to India's martyrs, Aye Mere Watan ke Logon immortalised by the peerless Lata Mangeshkar. Lest we forget, there's always Saare Jahaan se Achha or Vande Maataram to fall back on.
Republic Day 2022, followed by the Retreat, has now come and gone without Abide with Me. For a few days, social and conventional media had nothing else to talk about. Musicians from various streams decided to put out their own versions of the hymn on Facebook, Twitter and Instagram in simpatico with those who felt hard done by at the omission. A few days later, all is forgotten as is the way with most 'hot topics' in our country, and life has returned to the usual humdrum normality about the assembly elections and the (hopefully) receding pandemic.
An interesting aside. During the rehearsals prior to the Republic Day parade, the band decided to let their hair down, shake a leg and play some popular Hindi film songs. The racy tune from the 1971 hit film Caravan, Piya Tu Ab To Aaja (Monica my Darling), drew a great deal of attention on social media and television news channels. Many thought this was actually going to be part of the R. Day official song list and went berserk, hurling invective at our officialdom for their gross lack of taste. Once the truth was known, the boot was on the other foot and our trigger-happy media socialites, to coin a term, had egg splattered on their faces.
Here's the thing. At the top of this column, I talked about attending chapel service in school and lustily singing those gems from the compact hymn book, Hymns Ancient and Modern. This was during the 1960s and the school in which I was a boarder, Bishop Cottons Bangalore, was run very much on Anglican Protestant lines. Church of England, if you must know. Now I come from an orthodox Tamil Brahmin family. I assure you they don't come more orthodox than that! There were many in my family circle who worried themselves sick over the possibility of our getting converted, if not in actuality, then perhaps through osmosis and 'sinister influences.'
Let me make it abundantly clear that nothing was further from the truth. If I enjoyed chapel service in school (I was even called upon to read the Lesson now and then), I equally revelled in learning Carnatic music and attending concerts by the great masters and exponents of the time. Though I was not of a particularly religious bent, I was quite happy to be a part of many of our family functions, especially weddings where classical music and sumptuous food were the order of the day. Music, be it a hymn by Henry Francis Lyte or Tyagaraja, or for that matter, Joan Baez (check out her incandescent Amazing Grace), the words were of scant significance. If I liked the tune, nothing else mattered; the lyrics were a bonus. If the music was unappealing, even the most profound lyrics had no impact. If words were all that mattered, we can always turn to poetry. I would recommend T.S. Eliot's The Waste Land: Datta, Dayadhvam, Damyata / Shantih, shantih, shantih.
What has all this got to do with the price of fish, I hear you ask.The government is of the view that vestiges of British imperialism, wherever possible, should be quietly done away with, though there is nothing quiet about it. This is a deliberate strategy not unique to the present dispensation. Ever since Independence, roads with English names have been gradually replaced with Indian equivalents. Mahatma Gandhi and Jawaharlal Nehru (and his descendants) have dominated our urban geography. Almost every other city in India has an M.G. Road or a Jawaharlal Nehru Road. I won't even get into the naming of stadiums. Calcutta's streets with British names were renamed not only with Indian equivalents, but with Communist icons like Lenin, Ho Chi Minh, Maxim Gorky and so on. They could not quite remove Queen Victoria's imposing statue in front of the Victoria Memorial, but the smaller plinths around the precincts have made way for Indian icons. This is not just a phenomenon unique to India. Most countries that were once colonized, would like to erase those painful memories over time. Let's face it, you are scarcely likely to hear the band strike up Vaishnava Janato or Mirabai's Hari Tum Haro at a royal procession in London. Both those lovely songs have been listed as among Gandhi's favourites, as has the present cause célèbre, Abide with Me. The Father of the Nation clearly had many favourites for us to be getting along with! In fact, the Mahatma specifically requested Nehru's 'Queen of Song', M. S. Subbulakshmi to render Hari Tum Haro at his last birthday celebrations. Speaking for myself, if the mood takes me, I am perfectly happy to listen to Abide with Me being performed by any decent choir with full throated ease. Truth to tell, the brass band version never quite worked for me. Too brassy.
Around the same time as the Republic Day furore, another controversy erupted, and I am not even touching on the annual Padma Awards hullabaloo. This time it was to do with the proposed installation of freedom fighter Netaji Subhas Chandra Bose's statue at India Gate in New Delhi, earlier occupied by King George V casting his imperious eye into the middle distance. In keeping with technological advancement, while Netaji's granite statue is being given the final touches, a hologram of the leader will be visible at night. Naturally, the ruling party and the opposition spokespersons were at each other's throats, the former justifying their decision while the latter saw it as little more than naked opportunism. If there is a grave somewhere containing Netaji's mortal remains (and that is an unsolved mystery), I am sure he is turning restlessly in it. While there are innumerable examples of statues and monuments being brought down all over the world for any number of reasons, leave alone statues that have been defaced, our politicians from all streams are only waiting for a chance to exercise their lung power when decisions are taken that go against their ideology. If history teaches us anything, it is that this will continue for as long as humans inhabit our planet earth.
The fact of the matter is, I have never been much of a one for parades of any kind. Floats and tableaux leave me largely untouched. I don't believe I have ever sat in front of my television set to watch the reverberating pomp and splendour, all the way through, during Republic Day parades. Snippets maybe, but no way are you going to catch me sitting through the entire shebang, even with jumbo bags of popcorn. That being the case, whether the band trumpeted Abide with Me or not makes no difference to me. Let the idealogues fight over the rights and wrongs of the alleged error of omission or commission. For myself, I can go to Spotify and select the venerated St. Albans Bach Choir rendering the divine St. Mathew Passion by, who else, but J.S. Bach. Come to that, a recording of T.N Rajaratnam's Pillai's mind-blowing Todi on the nadaswaram will work equally well. As for Monica my Darling, I shall give it a miss.